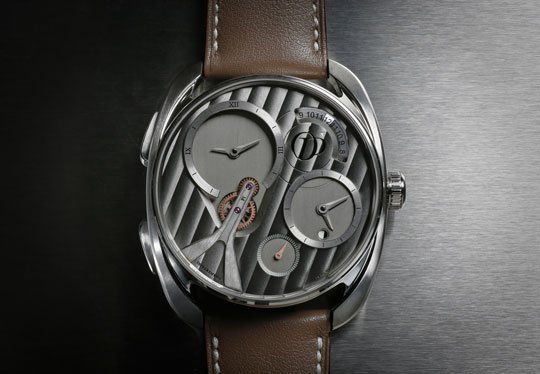 First prototype of the Pecqueur watch
The depiction of dynamic motion
In horology, there are components that make a watch work and those crafted to define it. The Differential confers on the Pecqueur concept watch an unrivalled depth and beauty. Through its prism and encrypted new codes, the revisited mechanism elevates artisanal craftsmanship complexity to an Art form, one that is sculpted when the watchmaker's vision fuses with the dynamic of metal in movement.
While restoring the vision of depth from its mechanical perspective, the concept watch creates a new lexicon; the Pecqueur Conceptuals brand design language ("Arts Mécaniques en Mouvement"). Experimenting with the fragmentation of form, the collapsing of time and space, the depiction of dynamic motion and the unique perspective it offers, the Pecqueur concept watch creates its own interpretation of the Futurist movement in Swiss elite horology.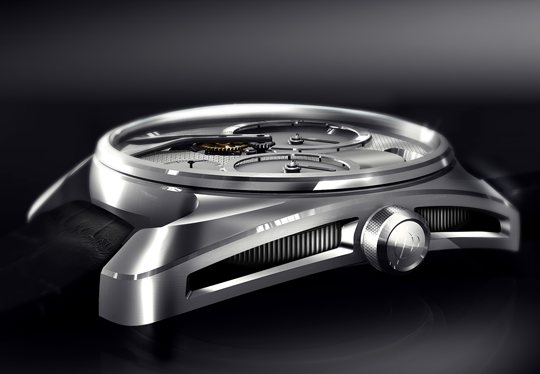 Watch casing design
Mechanical Arts In Motion: this simple mission statement is the foundation of all designs from Pecqueur Conceptuals. The challenge of sculpting this watch casing is one of balance, finding the perfect way to harmoniously blend the seemingly opposing worlds of engineering and art.
The volumes and curves of the watch have been precisely studied so that they from a fluid and comfortable shape that sits perfectly on the wrist, the blend and metal finishes, guilloche, polished & brushed an outward sign that this casing houses a machine of elegant precision.
Onésiphore Pecqueur was a craftsman, thinker, and artist. The Pecqueur Conceptuals identity remains faithful to this rare depth of character. Our objective was to instill this philosophy in metal by designing a watch which blends heritage and reinvention.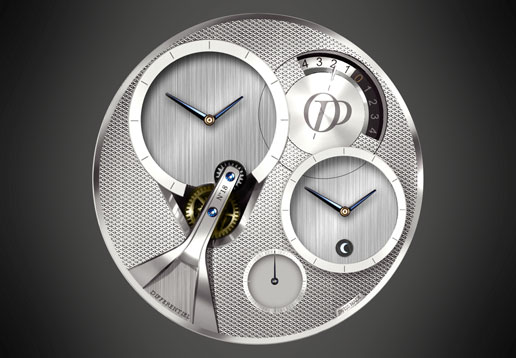 Final Dial Design
At the heart of every Pecqueur Conceptuals watch beats a Differential.
This structure of precise gears is located at the centre of the dial and is directly connected to the local time by a series of interlocking circular elements.
A dual time layout was developed in concert with a brief from Pecqueur Conceptuals and the Swiss watchmakers at Centagora.
The dial has been constructed using a subtle layering effect designed to present an ergonomic hierarchy to all the different information available. We created a series floating dials that encircle the dual time zones and clearly focus the eye on the local time then the second GMT time zone while ending with the "petites seconds" dial.
This layout of interconnected elements inspired by the differentials layered gears flows over and highlights the GMT corrector's semi-circular dial. Itself giving a home to the brand logo that it has captured within its spherical continuation.
In keeping with the premium engineering heritage of Onesiphore Pecqueur a series of rich metal finishes and guilloche were chosen to coat this design.